Join the Jasper Project and artist Lori Isom as we celebrate the opening of her exhibition in the gallery space at Harbison Theatre. Her work will be available for viewing and purchase until the end of March. 
 
At 7 PM, Isom will speak briefly and give you the opportunity to enjoy her work prior to the opening curtain for Patrick Davis & His Midnight Choir. Isom's work combines many techniques, textures, and mediums to bring life to her work that is as unique as the individual she is capturing. Her bold use of color, pattern, and imagery seeks to convey a deeper story in each piece.

The reception is free, but tickets to Patrick Davis & His Midnight Choir are available.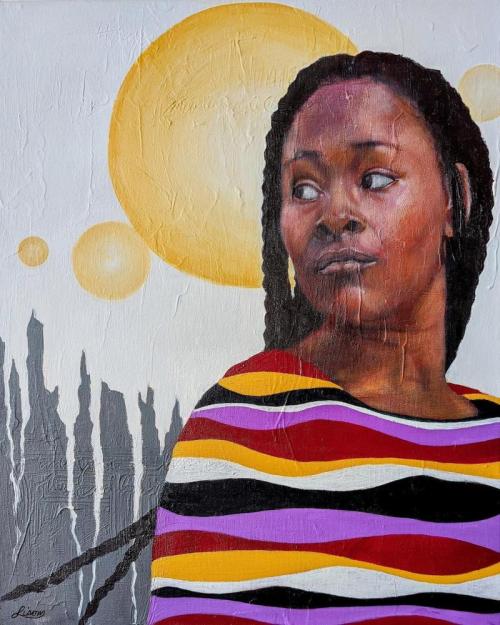 "Since I have theater experience in my background, I relate to my subject(s) like actors on a stage. Telling a story and capturing emotion are what I aspire to do every time I go to the canvas. While working on a piece, I am thinking about how I can best reveal the person's story to my "audience" in this brief moment in their life. 
My deep desire as an artist is to present my subject in the most honest and sincere way.
Like any artist, I want the viewer to be moved in some way by the painting, and just see a pretty picture. I am stimulated by interesting composition, structure and use of color, however the emotion is really what drives me. "
Lori Starnes Isom 
It is fair to say that Lori's life as an artist, and all around creative, has been quite varied. Throughout her young life, while receiving a formal education, she also studied dance and acting in New York. She was fortunate to enjoy some success as a professional dancer, singer and actress in New York and Los Angeles. Over the last several years, she's had many interesting and fun entrepreneurial pursuits, including owning and operating her own baking business! While she is predominantly a self-taught artist, Lori majored in fashion illustration in high school, and later fine art and fashion design at Parsons School of Design.
Lori's love of portraiture and figurative art began early. She was captivated by the work of artists like Mary Cassatt, Norman Rockwell, Andrew Wyeth, and John Singer Sargent because of their ability to capture emotion. Later in life, she found inspiration in artists like Mary Whyte, Dean Mitchell, Daniel Greene, Amy Sherald, and so many others. 
Through the years, Lori has done hundreds of individual and family portraits, as well as portraits of military personnel and heads of companies. She has also shared her passion and knowledge of by art coaxing the inner artist out of young children to senior citizens, through teaching. 
Lori's work has been featured in the pages of American Art Collector, newspaper articles and a variety of other publications. Her career has included solo and group exhibitions, and a one year residency for the City of North Charleston, during which she had the privilege to work on several community-focused projects. These included outdoor murals and special art projects, as well as workshops and demonstrations in the city's schools and community centers. 
At this point in her career, Lori is focused on reaching her most authentic artistic expression through deep personal exploration. She is driven to find her highest level of creativity by being open to trying new techniques and, most of all, trusting herself.