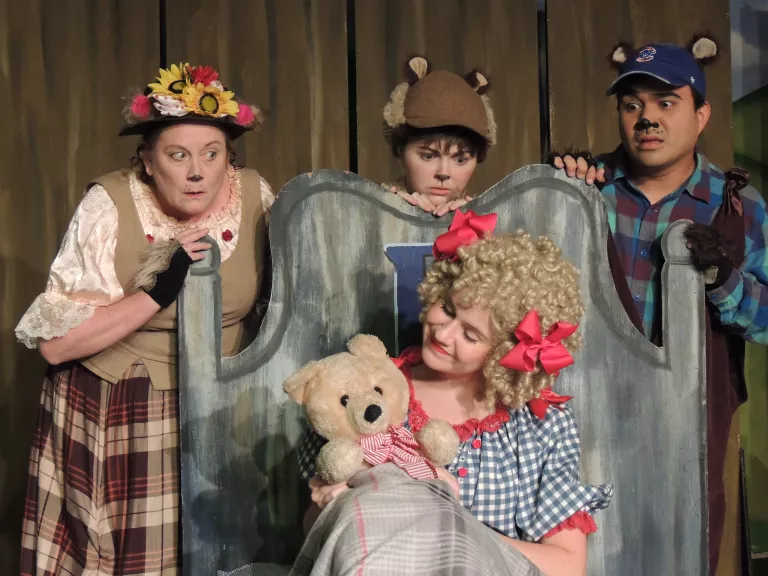 Join us for this "just right" musical for the entire family
Catch a bear-sized helping of music and mayhem in Columbia Children's Theatre's production of Goldilocks and The Three Bears at Harbison Theatre at Midlands Technical College on Saturday, March 14 at 3:30 PM.
Goldilocks, on a trip into the forest, ventures into a seemingly uninhabited house. In the process of making herself feel at home, she turns the place into a gigantic mess! Little does she know that the house belongs to a family of three bears… who will not be too pleased.
"We're thrilled to be rounding out our Columbia Children's Theatre series with this feel-good play," says Kristin Cobb, Executive Director of Harbison Theatre. "This classic tale is such a whimsical way to remind kids of manners and kindness, and we hope there are plenty of families that want to come out and join us for this fun afternoon." 
With an upbeat score and a dancing bear or three, this retelling of the classic tale is perfect for the whole family.
"We just love coming out to Harbison Theatre to tell entertaining stories like this," says Jerry Stevenson, CCT Artistic Director. "We hope to continue sharing classic tales and more with audiences down the road."
The cast features Julian Deleon as Father Bear, Jordan Harper as Mother Bear, and CCT YouTheatre actor Therese Reosti as Baby Bear.
Goldilocks will be played by Illia Dia and her father Mr. Locks will be played by Baker Morrison. The show is directed by CCT Artistic Director, Jerry Stevenson, with choreography by Lisa Sendler and Brandi Smith and costumes by Donna Harvey. The play is written by George Stiles and Andrew Drewe.
Tickets are $12 and ages three and under are free. Tickets can be purchased online at HarbisonTheatre.org or by calling the box office at 803.407.5011.