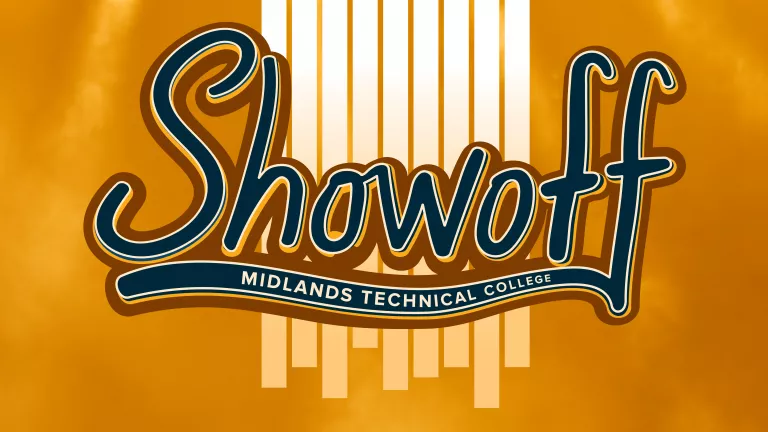 Returning to HT@MTC for the third time, the MTC Showoff will feature MTC students, faculty, staff, and alumni who will compete for the annual title. In this fan-favorite performance produced by local virtuoso Larry Hembree, the "biggest showoff" earns $1,000, the "audience favorite" gets $500, and all final contestants will perform on stage for the ultimate performance.
Ten finalists will perform a variety of arts genres before a packed house. They will be judged by Curtis Wilson from Good Morning Columbia; Kathleen Lee, Dance Instructor at Dreher High School; and Michelle Moslemi-Haché, Musical Theatre Instructor at UofSC. The top prize winner garners $1,000 from the MTC Foundation. The emcee for the evening is Pat Patterson.
"This event continues to be one of our favorites each season," says Kristin Cobb, HT@MTC Executive Director. "It is an incredible way to showcase the talent we have within the college and connect all aspects of the MTC family with the theatre."
The show's producer, Larry Hembree, has served as the head of Nickelodeon Theatre, Trustus Theatre, Camden Community Theatre, and is currently the Managing Director of Columbia Children's Theatre.
"This event is always a highlight of my year," says Hembree. "It's amazing the breadth of talent that the students, faculty, staff, and alumni have at MTC, and we're just thrilled to be able to show it off on stage at Harbison Theatre."
The finalists competing to become the "biggest showoff" are Edward Teak Adams, Daryl Wayne Gaskins, Lev Gatmon-Segal, Beloved Hayden, Mel Jenkins, Alex Johnson and Daniel Kim, Jordan Mclamore, Micaela Riley, Haley Trapp, and Catricia Williams. Come and cheer on these talented Mavericks!
The MTC Showoff
Harbison Theatre at Midlands Technical College
7:30 p.m. | Saturday, March 26, 2022
Tickets: $15 | Student/Senior/Military: $10
Tickets and additional information are available at HarbisonTheatre.org or by calling the box office at 803.407.5011.
Harbison Theatre at Midlands Technical College COVID-19 safety information is available at https://www.harbisontheatre.org/safety-information.